T- SHIRT
Round Neck and V-neck T-shirt Models
Smile V-neck and round-neck t-shirt collection is prepared with the most stylish colors of the season, perfect patterns and fabric textures that will make you feel good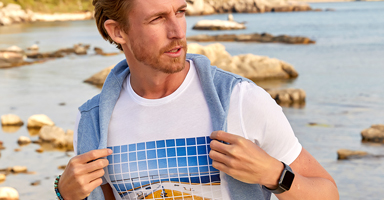 {{translate.filter}}
{{F.NAME}}
{{F.MIN_SELECTED}}
-
{{F.MAX_SELECTED}}
{{translate.price}}
{{price.MIN_SELECTED}} {{target_currency}}
{{price.MAX_SELECTED}} {{target_currency}}
Total of 23 products are displayed.
Total of 23 products are displayed.
T- SHIRT
Indispensables of the Spring-Summer Season: Smile T-shirt Collection
Smile designs the perfect t-shirt for you with its 54 years of experience and uncompromising style. Top quality fabrics, knitted with 100% cotton yarns, all produced from first-class Aegean cotton, attain wonderful textures and optimum softness by undergoing special processes. All Smile t-shirts are made of cotton fabrics with a cool touch that will make you feel comfortable on hot summer days.
Experience Meets Style
Prepared with a colorful selection for the 2020-21 spring-summer season, the Smile t-shirt collection brings especially stylish pastel tones to the fore. With a variety of colors up to tens of colors in models, it offers products suitable for every taste and every combination. The Smile collection, preferred by men with high-quality expectations, is at the top of its segment in terms of craftsmanship. Decades of knowledge and experience in collar, placket, and slit workmanship are reflected in every product.
T-shirts for Every Taste, Every Color
Polo collar, belted, 2-button, 3-button, concealed placket, piping models are detailed with various embroideries, specially designed photo prints on the back of the collar or the front body. Both basic products and themed products become a collection that complements and combines each other. The elegant and delightful details hidden inside the placket make you stand out even with a single plain t-shirt.
Unlimited Combination Options with Trousers or Shorts
Smile t-shirt collection completes your elegance by being combined with trousers, Jeans, Bermuda shorts, cargo shorts, tracksuits, and combed shorts in many colors and patterns as of the colors in which it is prepared. You can wear Smile t-shirts in combination with a belt inside your trousers, or your casual combinations over your trousers or Bermuda shorts. The pattern used in the collection is prepared in line with long years of experience and trends, and it is cut and sewn to fit your body, neither narrow nor wide. Going beyond the limits of time, Smile colors and models prepared in a way that will never leave your wardrobe and will always please stylish men. Patterns and collars that you can easily wear alone or with fine knitwear or a linen jacket will give you great pleasure and elegance in both your daily and weekend wear. The Smile t-shirt collection offers modern, comfortable, quality, and enjoyable options to self-confident and stylish men.